SoundCloud Sonar Volume 1: Karma Fields
Welcome to the first edition of SoundCloud Sonar, a section of the ND RefleX Music blog where we choose some rare pearls that we've come across spelunking the endless audio waves floating amidst SoundCloud. There's vast oceans of music in SoundCloud and what you find rummaging through the endless nooks and crannies depends upon a mixture of algorithms, your search keywords and listening history, a bit of luck and, well karma. KARMA FIELDS, to be precise in this edition of SoundCloud Sonar.
This find turned out to be not only an audio gem, but a treasure trove of masterful visual effects that accompanies the music when you follow them over to YouTube, or even more so to one of their live shows. There is a mystery however, we can't seem to figure out who Karma Fields is (it seems to be a he, but we will refer to 'them' as 'they'), or exactly how they produce their music.

However they are not at all undiscovered, and it turns out that they are a 2016 addition to the EDM label Monstercat, putting them on par with the likes of Grabbitz, Marshmello, Timmy Trumpet and Bear Grillz to name a few artists getting some serious action these days. But it was the first time Karma Fields made a ping on our sonar, and then almost levitated the whole darn submarine!
We also know that a guy named Raven Kwok worked on the visuals that use AI to react to the music in the videos and also the live shows. It seems that Karma Fields music is also created, largely through AI, but we don't know how much. There's got to be a decent human element to it!
Karma Fields brings us Body Rush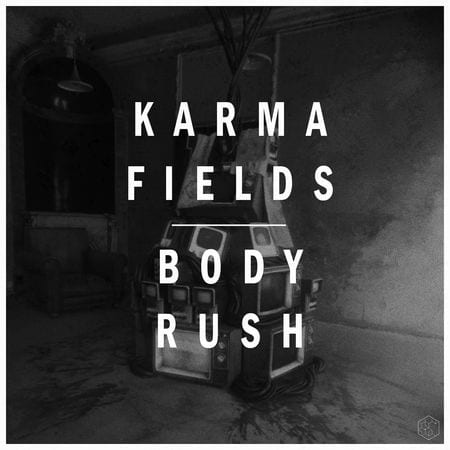 Without further ado, introducing Karma Fields, which combines artificial intelligence and human artistry in a seamless blend of whorling geometrical images set amidst a masterful procession of sound. Their latest album is called Body Rush and is available on Spotify, iTunes and other outlets and has 14 tracks that feature massive electronica built around human vocal performances and supporting soundworks that will keep you, whoever and whatever is within earshot well occupied.

There's a bunch of music videos that accompany the album, but even if you just stick to the music without the visuals, Karma Fields delivers. SPOILER ALERT: An Underground System of Forgotten Machines the Body Rush album has an ABSOLUTELY DOPE DROP. Crank it up, listen to it from the beginning, and leave your body space to suddenly go spasmodic! If you never finish the rest of this article, we don't blame you. But if you want to read about the tour, try to come back!
It seems that Karma Fields has a US tour set up with a super-impressive audio-visual show. If you're going to be in Washington D.C., San Francisco or LA in September of 2019, check out the Karma Fields website (also very impressive!) and see if you can get tix for one of the four shows scheduled for that month. You can also follow their twitter feed here to see some of the latest updates: @Karma_Fields
We hope you find the Karma Fields discovery as awesome as we do. We've dropped some more links below. Catch you next time on SoundCloud Sonar.
Treasure Trove of Videos:
https://karmafields.com/art

Reddit Community:
https://www.reddit.com/r/karmafields/

Karma Fields on the Monstercat website:
https://www.monstercat.com/artist/karma-fields