Songtradr is a Galley on the High Seas of Music Distribution
In the wild and high seas of independent music publishing in the late 2010's, the major platforms available to do so are something akin to the colonial European naval powers of 500 years ago. You have services like Ditto, Bandcamp, DistroKid, Tunecore, Routenote, Reverbnation and many more that are waging battles for supremacy in establishing trade and distribution routes much like the Portuguese, British, French, Dutch and Spanish did centuries before. One can imagine that the listeners and buyers of music today on iTunes, Spotify and the myriad smaller "outlets" are similar to the natives and colonists of the past who received the distributed goods by all the aforementioned merchant ships.
Songtradr is not as much of a major power as some of the other platforms, but it does fill some gaps, and provides a sturdy ship to make sure your music is delivered. So what are the core features of Songtradr that differentiates it from the other major distribution platforms. Although we haven't used them all, we have used Songtradr and here are the pros and cons.
Pros
Songtradr is reasonably priced and for $49 you can get a Pro plan that lets you distribute as many songs as you want for 1 artist for 1 year plus 3000 credits to use when submitting your songs for licensing opportunities. If you are only dealing with your own productions, or that of your own band, no problem here. When you distribute a song, Songtradr will push it out to over 200 outlets including iTunes, Spotify, Amazon and all the other major ones. You can adjust this fee upwards (using a neat slider that adjusts price according to how many artists you want to represent) to get more credits and artists stretching all the way up to 27240 credits and 100 artists (unlimited distribution) for $803.60 per year. A fantastic deal if you have that many music producers under your wing.
They also have a Distro subscription for $20 per year that also gets 1 artist unlimited distribution but only has 240 credits, and a FREE version which gives you 120 credits but no distribution.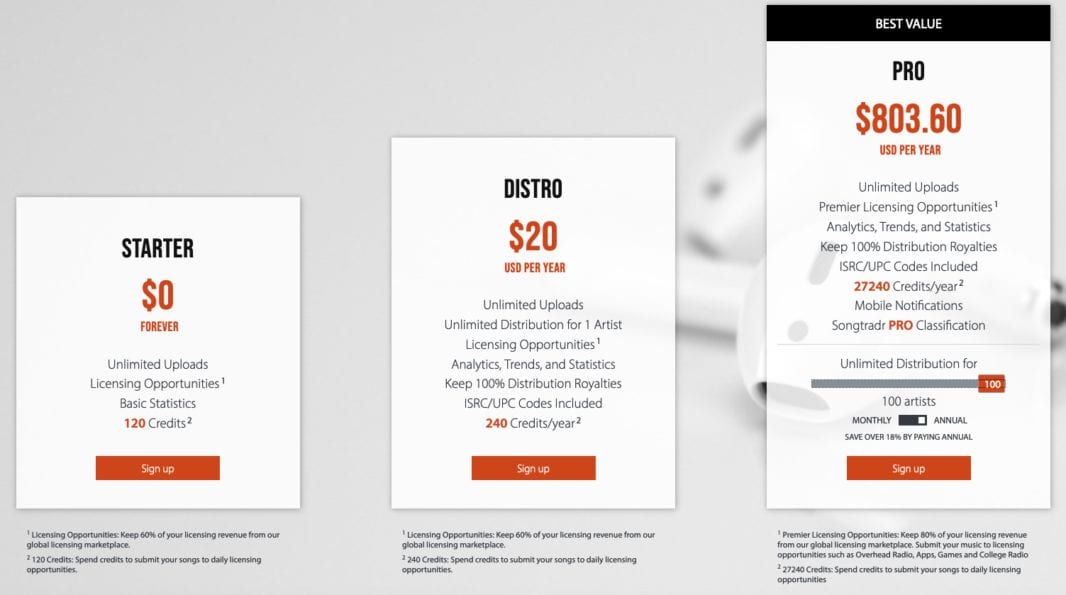 All three tiers come with other varying features such as the percentage of royalties claimed on licensing deals and what sorts of analytics you get (basic statistics for FREE, advanced analytics for Distro and Pro). Pro users also get access to other premiere features. For instance, your tracks can be considered for placement in overhead radio apps, games, and college radio, a fantastic niche that can jumpstart a cult following for any indy artist.

The dashboard is clean, efficient and well-organized. You can track pretty much everything you need to here including your own collection of uploaded songs, a variety of metrics on how they are performing in streams, searches, licenses etc.
Most importantly, all these analytics also boil down all your revenue to a bottom line which Songtradr pays out, so you don't have to go chasing after scattered bills.
There's also a stream of specific licensing opportunities you can submit to for placement in films, TV and advertising. Some of these are quite lucrative, paying upward of $20,000 for one song, although the average is much lower than that.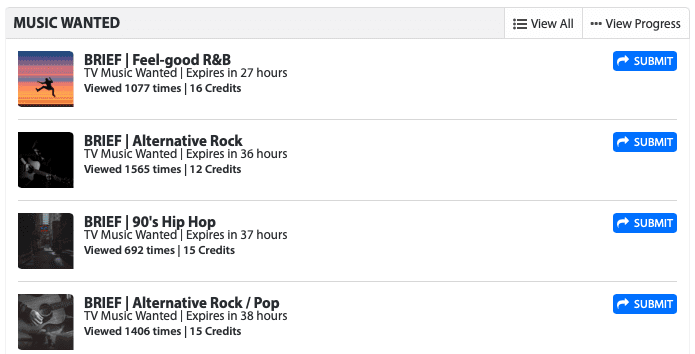 Every submission is listened to and you can track the progress of what "selection round" you've made it to with notifications keeping you posted.
All your uploaded songs are also in the pool to be discovered by buyers (for licensing opportunities) even if you are not submitting to a specific opportunity.

Cons
Although you can release a single or album with reliable service to all the major outlets like iTunes, Spotify and Amazon, you can't get access to a Vevo account or release a video with the songs. That has to be done independently.
The licensing submission opportunities are quite limited. There's almost always less than 15 available at any given time, and most of them have hundreds if not over a thousand submissions, making competition cutthroat.
The same goes for the College Radio promotion feature, which gives you only the slimmest of chances to be selected as they only choose around 5 artists each month to feature there which will then also be highlighted in their Monthly Mixdown blog.
Conclusions
If you are a single artist/band and you just want to distribute music, with no videos, to iTunes, Spotify, Amazon etc. then Songtradr is reliable and will do so as well as any other but they don't help very much in the way of promotion. In this case you problably want a Distro plan, with less credits but unlimited distribution for 1 artist.
Where Songtradr is a cut above the rest is if you and/or your band (or reportoire of artists) are truly prolific musicians who can adeptly replicate the styles of others and knock out finished tracks quickly. Think of professionals like Paul Shaffer who led the band for the Late Night/Show with David Letterman. Every night he and his crew had to whip up quick cover versions of songs to meet the occasion. Although you won't be asked to cover songs most of the time, you will be asked to cover styles and genres on nearly every licensing opportunity, as in the one 1960's Easy Listening request pictured above.
This can be a very lucrative source of income for a band that can jump from a Latino bossanova track over to a country western ballad and then on to a rock anthem. Here Songtradr may be your best bet.
But if you are an experimental artist or someone with really original music and lyrics, the chances are slim that you'll be considered for any of the licensing opportunities. You can still use it for single and album distribution, but there are other services that provide more promotion through that framework while including other services like getting a Vevo account for music video releases that accompany the music.
Things change vastly however on the high seas of music distribution in these times, and watch out for Songtradr to upgrade its services, or merge with others by way of an acquisition one way or another. As always, be wary of the ever shifting winds and stay abreast of the latest news and rumors coming from far ashore. Best of luck getting your music out there, and your revenue in.