Brass Monkey: Gritty Blues Rock from Industrial North England
There's been a deep, soulful voice blowing off the northeast English winds lately and sailing right on to radio waves around the world. Its burly notes ride on rhythmically thick chords reminiscent of "Roadhouse Blues" by The Doors and bellow out the tough predicament of life where a day's work is spent finding a job, and that involves throwing some elbows and attitudes around in the weatherbeaten circles of folk on the rusty side of life somewhere between Cambridge and Scotland.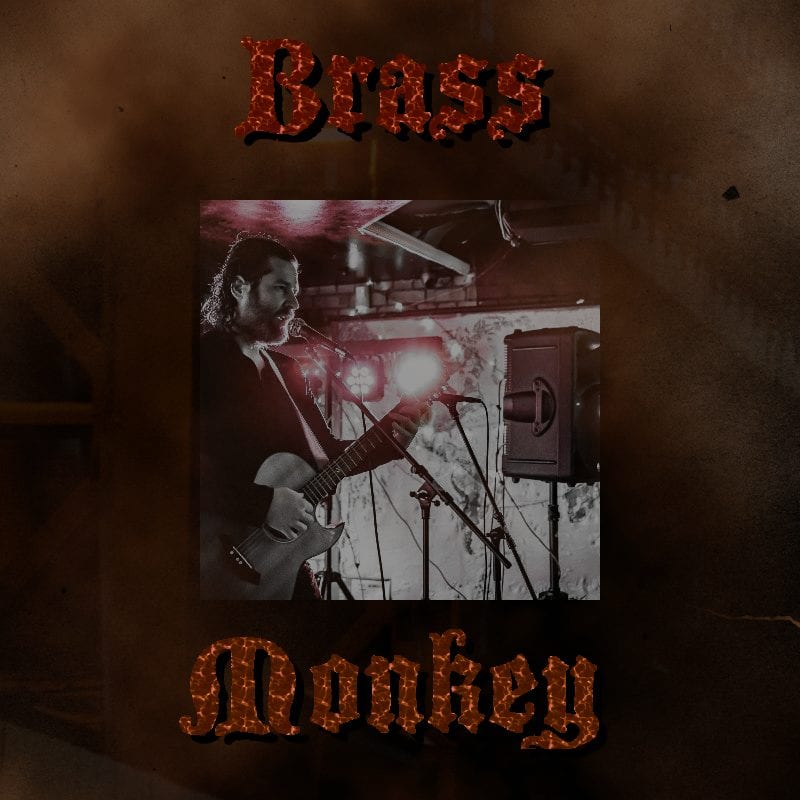 The source of these rugged songs of exposure is the vocal power, hands and experience of none other than Brass Monkey, one of those newcomers who seem to have been around for awhile, and whose very first two releases have seen atypical success as they muscle their way out of the shadows and on to radio rotations around the world as geographically spread out as Australia, Canada and of course the UK.
In a world that has suddenly been upended by unimaginable events, Brass Monkey's songs are resonating with listeners around the globe who can more than relate to the hard knocks and dead ends alluded to in the lyrics, but also with the steam-powered determination that drives the music itself and keeps them going. "Breadline" and "Nowhere" have both received critical acclaim as singles and clearly speak for themselves as well.
Brass Monkey now has a spot on the ND RefleX Roster and you can check out all his info there. In the meantime, we caught up with the man himself to learn a bit more about him in his own words. Here's the interview:
---
Reflex: What kind of covers do you include in your live sets besides your original stuff?

Brass Monkey: Foo Fighters, Red Hot Chili Peppers, Johnny Cash, Eric Clapton, Eminem, Bon Jovi, I try to turn my hand to anything but suit deep rough vocals best.
Reflex: If you could pick any four famous musicians to create a dream band with you in it who would they be?

Brass Monkey: Dave Grohl on drums, Steve Vai on lead, Flea on bass & Kyle Gass on rhythm
Reflex: What are your musical roots and inspiratations?

Brass Monkey: After a childhood pop phase I grew up loving grunge, classic & heavy rock & older experimental rock like The Doors, Pink Floyd & David Bowie. After taking up music I got into blues players like B B King & Trevor Sewell.
Reflex: If you had to play a gig with a wild animal, which one would it be and why?

Brass Monkey: I would've loved to play a few songs for Koko the gorilla before she passed but for a concert I'd have to pick an emperor penguin. They're adorable, comfortable in crowds, big enough to not get trampled &, hopefully for a wild animal, the diet coke of dangerous.
Reflex: Outside of other music, what inspires you the most in songwriting? Movies, books, life experiences?

Brass Monkey: Movies convince us that life needs a soundtrack but there's no substitute for life experiences. I love literature but think of it more as an indirect influence.
Reflex: What album have you probably played more than any other?

Brass Monkey: Probably "Appetite For Destruction" by Guns N Roses.
Reflex: What's in the pipeline for the future? More singles? An album?

Brass Monkey: I'm trying to book in to record another single now the lockdown's easing. It's between another blues rock track, like my first 2 singles, or a ballad style track that'd be a risk.I was amazed how well my first 2 singles were received. I never expected to get so much radio play around the world & even less that I'd do so well in so many indie charts. I have no idea how a different style would be received so it might be better saved for an album.

All the advice these days is against releasing albums unless you already have a huge audience & instead to keep releasing singles often to build momentum. Even so I'd love to put out an album after 1 or 2 more singles. A single body of work that, for better or worse, I can stand by & say "I did this." I'd also be able to branch out & experiment in genre with a couple of different tracks while still giving people what they expect overall.
Reflex: Any questions that haven't been asked you want to answer?

Brass Monkey: I'd just like to thank ND Reflex Music for the interview. I'd also like to thank the many awesome artists & bands who support each other as well as indie stations & charts such as the WKW 98.6AM CRAM Top 40, Radio TFSC, the KB Radio Canada Top 25, Spark Sunderland, Nova Radio Newcastle, Banks Radio Australia, the etunesUK Top 25 & too many others to mention.

There's so much awesome independent music out there right now & I'm incredibly grateful to all the stations, artists & fans who support it. Cheers : )
---
There you have it folks, the man behind the music has spoken himself. If you would like a spot on the ND RefleX Music roster please sign up here. If you would like to gain great publicity by sponsoring Brass Monkey through ND RefleX Music, click here or shoot an email to reflex@newdynamik.com